Marvel: Avengers Alliance is a Flash-based game developed by Playdom, a subsidiary of The Walt Disney Company. It is a turn-based social network game released on Facebook at March 1, 2012, and on Playdom's Official website at July 10, 2012(?). The mobile version was released on iOS devices on 13 June 2013.
Gameplay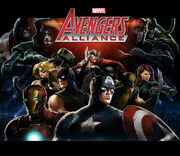 Players take control of an agent of S.H.I.E.L.D. and can fully customize the agent by gaining experience, leveling up, and equipping their agents with various weapons and uniforms obtained within the game. They can also team up with up to two out of the current available Marvel heroes in the game, each with their unique skills and abilities. Players start with only a few heroes, and the other heroes are locked. These heroes are needed to be recruited first by buying them with "Command Points," a currency in the game, complete Special Operations, etc.
The gameplay itself consists of turn-based fights that pit your agent and heroes against one or more waves of three or less enemies, with each character having unique attacks. There are six character classes, each with a specific strength and a specific weakness to one of the other classes, except for the class Generalist, which has neither strengths nor weaknesses.
The Reality Number of this Marvel Universe is Earth-12131. It shares with the Avengers Initiative game.
Playdom.com Version
Asides from the existing version on Facebook, on July 10, 2012(?), Playdom released a version of this game on their own official website at Playdom.com. Certain features in this game like the Guilds system and Tournaments are currently exclusive to this version of Marvel: Avengers Alliance.
On March 20, 2014, Playdom was announced that the servers running on Playdom's official website would be discontinued. The game was discontinued on April 20, 2014.